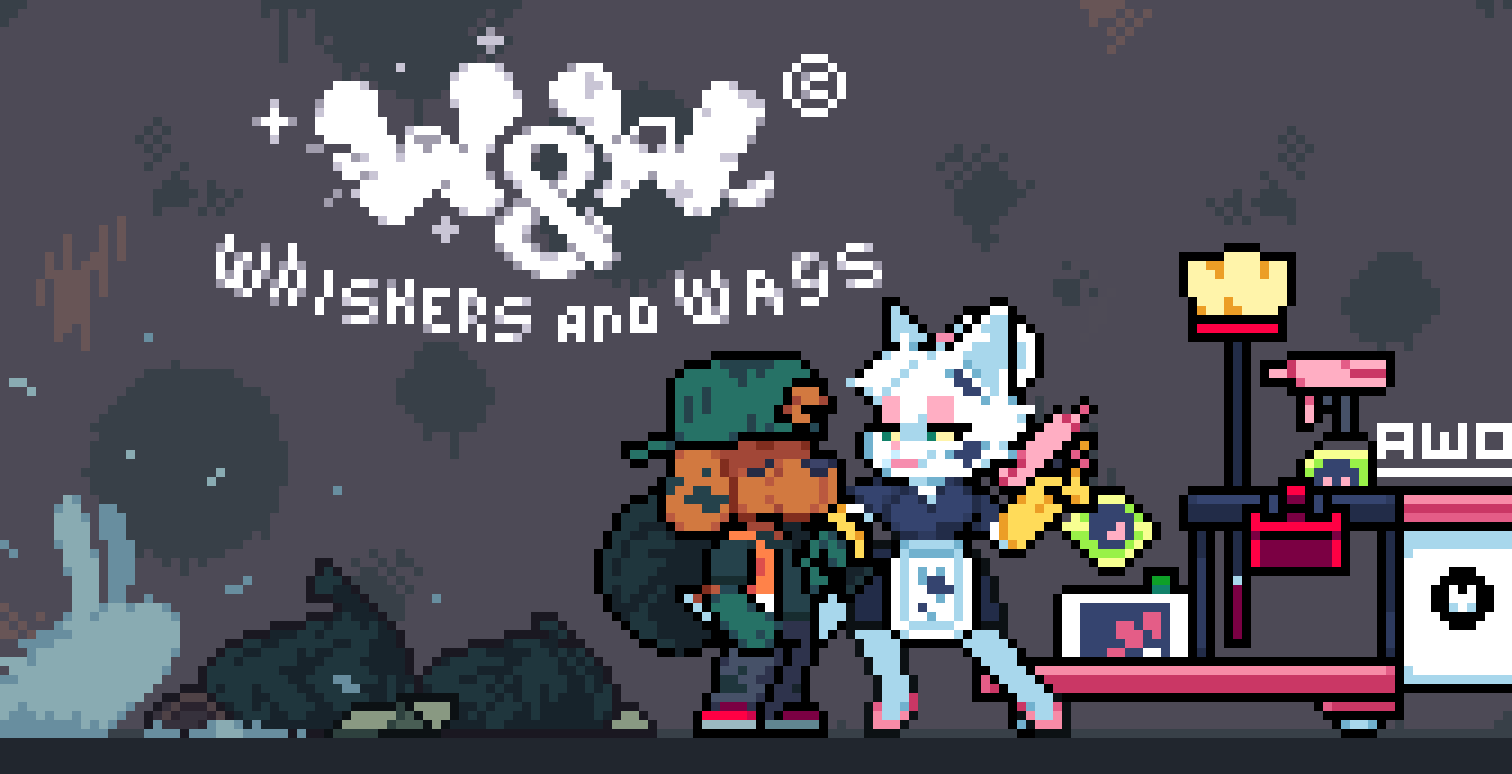 Whiskers & Wags Cleaning Co. (SAGE 2020 Demo)
A downloadable game for Windows
If you'd like to support the project, please consider droppin' a little something on my Ko-fi :)
1,2 (change window size)
3 toggle fullscreen (not recommended right now, I have to work on resolution issues)
4 toggle screenshake on and off

In this demo you play as Twinkelen! (cat maid)
Controls --------
(keyboard)
WASD - move
S - Crouch
J - Jump
K - Attack
L - Dash
E - Swap Sub Item
R - Activate Sub Item
F - Flirt (try it near Rote)
I - Grab (tap a direction after grabbing an enemy to throw it)
O - ACTs. Powered-up attacks that do heavy stun damage. (Only down + O while airborne, down + O on ground, and back + O are in-game)
U - Block time you block to parry the enemies attack and freeze them in place momentarily
Backspace - restart room
Spacebar - Interact with various objects, including doors, saving checkpoints at the cleaning cart
Shift - tap to toggle dragging the cleaning cart along with you
P - Pause
(controller)
Left Joystick - move
S - Crouch
A - Jump ( X on PS controller)
X - Attack ( Square on PS controller)
Y - Dash (Triangle on PS controller)
Left Bumper - Swap Sub-Items
Right Bumper - Activate Sub Item
Dpad Down - Flirt (try it near Rote)
Right Trigger - Grab (tap a direction after grabbing an enemy to throw it)
B - ( Circle on PS controller) - ACTs. Powered-up attacks that do heavy stun damage. (Only down + B while airborne, down + B on ground, and back + B are in-game)
Left Trigger - Block time you block to parry the enemies attack and freeze them in place momentarily
Back / Select(?) - restart room
Dpad Up - Interact with various objects, including doors, saving checkpoints at the cleaning cart
Dpad Right - tap to toggle dragging the cleaning cart along with you
P - Pause
Left Joystick - move
A - Jump ( X on PS controller)
X - Attack ( Square on PS controller)
B - ( Circle on PS controller)Temporarily Disabled
Dpad Right - Interact ( interacting the cart makes it follow you)
Dpad Down - Refill (refill tool energy at the cart)
Dpad Up - Open doors
Left Bumper - Swap Sub-Items (hold for radial view, tap for quick-swap) soon
Right Bumper - Swap Weapons (hold for radial view, tap for quick-swap)
Right Trigger - Super Attack
Left Trigger -Perfume (dispels status effects)
Y - Dash (Triangle on PS controller)
Select - Restart
Start - Pause
Charging Attacks - Holding the melee button to charge energy for your next attack. (up-tilt can't be charged right now)
Clouds of dust are emitted during attacks, allowing you to hit dust particles from a distance.
Dash - You can dash in all 8 directions. Holding up, down, diagonal+up/down will change the direction. Dashing gives you a short moment of invincibility, allowing you to go through enemy attacks. Tap the dash button for a short burst of speed or hold it down for a longer dash.
Dash Jump (dash + jump) Dash Jump onto glowing pink objects to slide on them! It adds to the combo meter and makes traversal more fun. (to be expanded later)
Rack up a high combo count for more damage and gems. Taking damage resets combo to 0.
Sliding - holding crouch while moving to retain momentum and slide along the ground.
CREDITS - - - - - - - - - - - - - - - - - -
Lead Designer / Artist Aw0
Sound Brent Richard
Music H3metZ
Twinkelen's voice Amanda Kay
Animation Assistance KittyKola
Special Thanks (Coming Soon!)
| | |
| --- | --- |
| Status | In development |
| Platforms | Windows |
| Rating | |
| Author | Aw0 |
| Genre | Action, Fighting, Platformer |
| Made with | Aseprite, GameMaker: Studio |
| Tags | Beat 'em up, Cats, combos, Cute, Dogs, Fast-Paced, Pixel Art, Retro |
| Average session | A few minutes |
| Inputs | Keyboard, Xbox controller, Playstation controller |
Download
Click download now to get access to the following files:
Whiskers_n_Wags-SAGE-v1.2.exe
24 MB